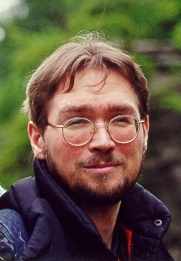 Reynald DUMONT
Project Director - R&D Manager - GIS Specialist
OPEN - RENNES
FRANCE


Resume.

Current Position.

Publications.

Softwares.

Research Interests.

Models.

Images.

Past Research.

Miscellaneous.

Contact.


RESUME : Curriculum Vitae: Detailed French Version (HTML)

I am currently a Project Director, an R&D manager and a GIS specialist at OPEN (formerly known as TEAMLOG).

I am the product manager & software architect for STUDIO, DIONISOS, SAFIR, SYREN and FULLMAPS (website), five major applications developed by skilled software analysts and developers.

Our team is primarily interested in GIS, 3D modeling and Simulation (EO, visible, infrared and radar, SAR sensors) (webpage).
PAST POSITIONS (CORNELL, ALYOTECH)


From 99 to 02, I was a
Researcher
working at
PCG (Program of Computer Graphics)
,
Cornell University

(NY, USA)
, with
Professor Don. Greenberg

At Cornell, I have also been Primary Instructor in 2001 (CS517, Cornell Graduate Advanced Rendering Course).

From 95 to 99, I was first a Research Engineer and a Project Manager in the industry (Alyotech, ex CRIL TECHNOLOGY).


English list (Computer Graphics, Infrared Simulation, Sar Simulation)
C

URRENT RESEARCH INTERESTS




Editing/Sharing GIS Data.

3D Modeling from GIS Data.


Real-Time Rendering and 3D Visualization.


Physically Based Light Simulation (Spectral Ray-Tracing, Hierarchical Radiosity, Monte-Carlo Methods, 3-Point Light-Transport, Particle Tracing).


Electromagnetic Wave Propagation (IR, Radar, SAR, Radiocom).

PAST RESEARCH INTERESTS

Hardware Acceleration.


Distributed Computing.


Visibility Computation.


Optimisation (Bouding Volumes, Levels of Detail, Space Partitioning...).


Ordering Strategies and Decision Theory.


BRDF Models.


Perception Models.


MODELS DEVELOPED

BRDF Models


Sky Models


Perceptually-Driven Decision Theory for Interactive Realistic Rendering


Electromagnetic Propagation: Infrared


Conferences


Journeys


Concerts


Photography

Address:
Reynald DUMONT
OPEN/PRISME
12 L Rue Patis Tatelin
35700 RENNES
FRANCE



Tel.: +33 (0)2-99-12-71-71
Fax.: +33 (0)2-99-12-71-72


E-Mail: dumont_reynald at yahoo.fr


Visiteurs depuis la mise en ligne de cette page.